5S003 Under Restoration (Updated: 1/27/14)
---
Engine
4H28, August 28, 1964 dated 289 HiPo standard bore block, provides the basis for the motor being rebuilt by Dave Bliss, a well respected Ford engine expert in the Seattle area. All the core engine pieces for 5S003 are dated August 1964, some of the more peripheral, external pieces are dated September 1964.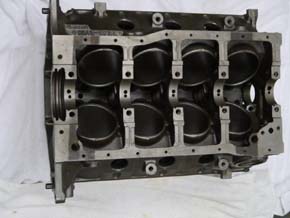 ---
Standard/standard HiPo crank out of a low mileage hipo 289 will be the epicenter of the strength of the motor in 5S003
---
Original HiPo 289 rods out of a low mileage motor will be used in the 5S003 motor. Look closely, you can spot the yellow paint daubs on the rods in the right photo denoting them as HiPo rods.
---
Early style street GT350 small Cobra letter, no part number, no firing order intake and earliest 715 Holley carb known; 4B2, second week of December 1964.
---
Return to top of page
Return to Restoration Page Menu