Home
About us
History of the First
1965 GT350; 5S003
1965 GT350
unique parts
1965 GT350 Mustang
"By the Numbers"
Literature and
Memorabilia
Shelby American
employee stories
Original owners
stories
Other 1965 GT350
stories
Forums
Links
Original Owners Stories (Updated: 7/13/21)
One of my favorite areas related to these cars is to talk with people who purchased these cars brand new. Perhaps I am trying to figure out what it was like to have a car like the GT350 in 1965; I was three years old and had a pedal car at the time. I have talked to less than ten original owners over the past 15 years, but when you think about it, there were only about 519 original street GT350 owners, not many. Below are a few original owner stories. Please feel free to contact me with one of your stories if you fall into this category or if you know someone who does, all I ask is that the stories are true. If you can remember the car's serial number and the year it may have occurred, all the better.

Mark Hovander
(Click on any picture to link to a larger image)
---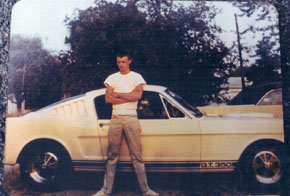 So what was it like to purchase a 1965 GT350 brand new? Ask Keith Krause who bought 5S266 through Brondes Motor Sales Inc. in Toledo, Ohio in 1965. As can be seen in the photo, the car had no Le Mans stripes, but it did carry a rear mounted radio antenna and a set of the optional Cragar mags. The Goodyear Bluedot tires are clearly visible and the Cragars still look new. The chrome work on the Cragars in 1965 was performed in Mexico and the quality was poor, so it was not uncommon for them to rust if left outside for 1-2 years. This car eventually made it through several notable GT350 enthusiasts: Bill Collins, Gary Barnes and finally Paul Fix who prepped it for show. It was featured on the cover of the Tom Corcoran book: SHELBY MUSTANG in 1992, as well as being featured inside. So where is Keith Krause now? We are all ears, I bet he would have some good stories to tell! It looks by the photo; he may have been in his early 20's. Where did he get the money to buy a new 1965 GT350?
---
I picked up the GT350 at Shelby American, at the LAX plant. Actually my boss, Ed Leslie and I flew up in his plane to LAX, landed and taxied to Shelby American. I knew it was one of the early cars, it was used by the press when the GT350 was first introduced. I was to drive the GT350 back to Leslie Motors in Monterey, California, about 340 miles away. I chose to go down highway 101. The car had about 1,000 miles on the odometer when I left Shelby American. I was flying out of San Louis Obispo going at least 80 mph up a hill, when a police car passed me going the opposite direction. I looked in the rear view mirror and sure enough he had turned around and was coming after me with his lights flashing. I pulled over. The cop started complaining that the side exhausts were illegal and were way too loud. I told him it was a production car, it still had the dealer plates and I showed him a copy of the MSO (manufactures statement of origin). I told the policeman I had just bought the car from the factory earlier that day and it came that way, with the side pipes. Pretty soon the cop was crawling all over the car, he thought it was great!
This car had a "barnacle" in the middle of the dash that housed the tachometer and oil pressure gauge. It was a nice driving car, especially in the corners. This GT350 became our demo car at Leslie Motors until I showed the car to Bill Moir, who was well rooted in Chevrolet Corvettes. Once I took Moir in the GT350 on a windy road, he bought the car the next day
Ed Leslie was my boss and was a Shelby American Cobra Team driver and had a Cobra dealership in Monterey California. I raced a red GT350 for a customer named Rick (I've forgot his last name); I drove a blue 289 Cobra for my demo car. Sometime in 1967, there was a new Ford policy stating that you had to be a Ford Hi-performance dealer in order to sell the 427 Cobra, I think by that point, we had sold 8-10 of them. That was the end of the Cobras being sold at Leslie Motors. There sure were great cars!
Red Geesaman, 5S003
Salesman at Ed Leslie Motors, Summer of 1965
---
After you finished driving the GT350, you felt like Charles Atlas or you had to be an athlete. The manual steering combined with the heavy clutch and the brakes that you had to stand on could really wear you out. Oh! I remember the pipes, the side pipes were right below you. Soon after I bought the car, I was asked if the side pipes were legal. I did not really know, so I called Shelby American, the person at the factory told me, "Just barely". It was a rough riding car. I traded in a 1962 Porsche 356 B model and they actually gave me $3,056.00 for it, I paid the balance of $1,898.00 and the new GT350 was mine. I have owned a lot of cars in my life, none of them were quite like the GT350.
Earl Rowland, 5S449 purchased on 10/21/65
As of 2001, 86 years young
---
I bought a GT350 brand new from Hi Performance Motors in 1965. I had it for only a short time when I blew the motor up, I returned the car and had a set of Webers installed on the new motor. I also bought a 427 Cobra brand new for $7,000 and a Cobra Daytona Coupe (originally he was told or thought all this time it was a GT40) which I drove on the street, but was constantly hounded by the police, so I sold it to a dentist in Arizona.
Frank Fries Jr., 5S286
Note: Frank sent me a photo of the GT350 when he owned it in 1965, which I have sent to the car's current owner, as well as a photo of the Daytona Coupe, which he referred to as a GT40. Peter Brock has possibly identified the car as being one of two cars, no reference source has Fries as an owner, or the dentist in Arizona, but photos don't lie, Fries did own a Daytona Coupe.
---
Shelby SFM5S141 was in our family from Oct. 14, 1965 to I think it was May of 1970. My brother bought the car as a used demonstrator from Tously Ford. The 1966's were coming in soon. $4500 with a 1964 Falcon Sprint in trade and my brother brought it home. Supposedly a salesman had driven up the west coast and then to MN so it had a few thousand miles on it. It came with no racing stripes, a radio with fender mounted antenna, mag wheels and the steering wheel with slots. He spent a week measuring the stripes ot the cars on the lot and had a local paint shop put stripes on it, dad wouldn't cosign for one with stripes. About $20 of steel wool was used to quite it down because of the many loud pipe warning tickets, he would shove it up the pipe before the police inspection and then it would blow as soon as he left. He used it for college and everday use. In late 1968 he was going to trade it in for a 1968 Torino because of a new child on the way. I gave him my 1965 2+2 to trade in instead (it had many dollars into it trying to make as good as his Shelby). I had it till the sping of 1970 when I traded it for a AAR Barracuda ($1500 for trade). I was tired of being out dragged by GTOs. About a month after I wished I had the Shelby back. Not the best car for every day use, loud (ears rang for hours after you shut it off) only one radio station every came in, not much room for groceries or kids, winter driving was interesting, the only way it would turn was to turn the steering wheel and punch it to break the rear end loose to swing the back end around, otherwise it would just chug straight ahead with out turning. You couldn't drive it any where without having to race or getting stopped by the police, loud and racing stripes attracted attention. Blew up the 289 and had a 302 put in it in 1969, seemed quicker and smoother with that motor. It was a car I will never forget, every car I have driven I always compare to how the Shelby drove.
Charles Engvall
---
Return to top of page